Examples of our work
---
Ryall Marketing Agency Watford Examples of our work
Ryall Marketing provide essential marketing services to SMEs, growing businesses and entrepreneurs in Watford and Herts. We work for all kinds of clients, from professional services to manufacturing companies.
Marketing agency watford examples of our work.
We produce a huge range of material, including websites, mobile websites, social media posts, eshots, printed collateral, mailers, packaging, stationery and corporate clothing.
Here are a couple of examples of our print and POS work, please call us on 01923 286999 for more information.
You can see more examples of our print and POS work on our sister company's site:
The Production Centre.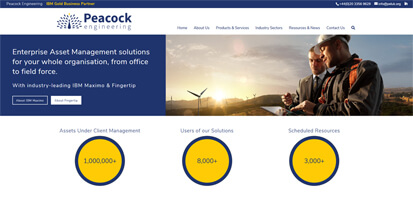 Peacock Engineering
Sector: Software
Material produced: Website, brochures and printed collateral
See all of our website work here
---
Contact us now on 01923 286999 or info@ryallmarketing.com
Ryall Marketing are a Marketing Agency Watford, specialising in SMEs. See our work here