The Ryall family Christmas news 2018
This has been an interesting year for us, no major tragedies and no lottery wins to report, but it has definitely been a year of significant progress along life's winding path. A major change for us has been that Josie and her partner Georgia moved out into a bijoux rented house in Rickmansworth, with a riverside garden, new kitchen and enormous free telly. This has clearly been a divorced dad's house previously, as the decor involves a lot of grey, black and chrome, but for all that it is a real find. And I gather that Josie has now taken to listening to R4 on her commute to St Albans, which is her most concrete indication of adulthood to date, even more than taking out her own phone contract or buying her own car. The Economist and the Guardian prize crossword beckon alluringly. Josie is teaching at STAGS, who offered her a job on the spot when she went there as a student teacher at the end of last year. She is loving the teaching, although she is finding some of the office politics a bit wearing. Not to mention the paperwork. Georgia has been working in the accounts team on various film productions through the year, and is becoming well established with various production companies, which means more and better work. Her new film is '1917', directed by Sam Mendes and starring Tom Holland.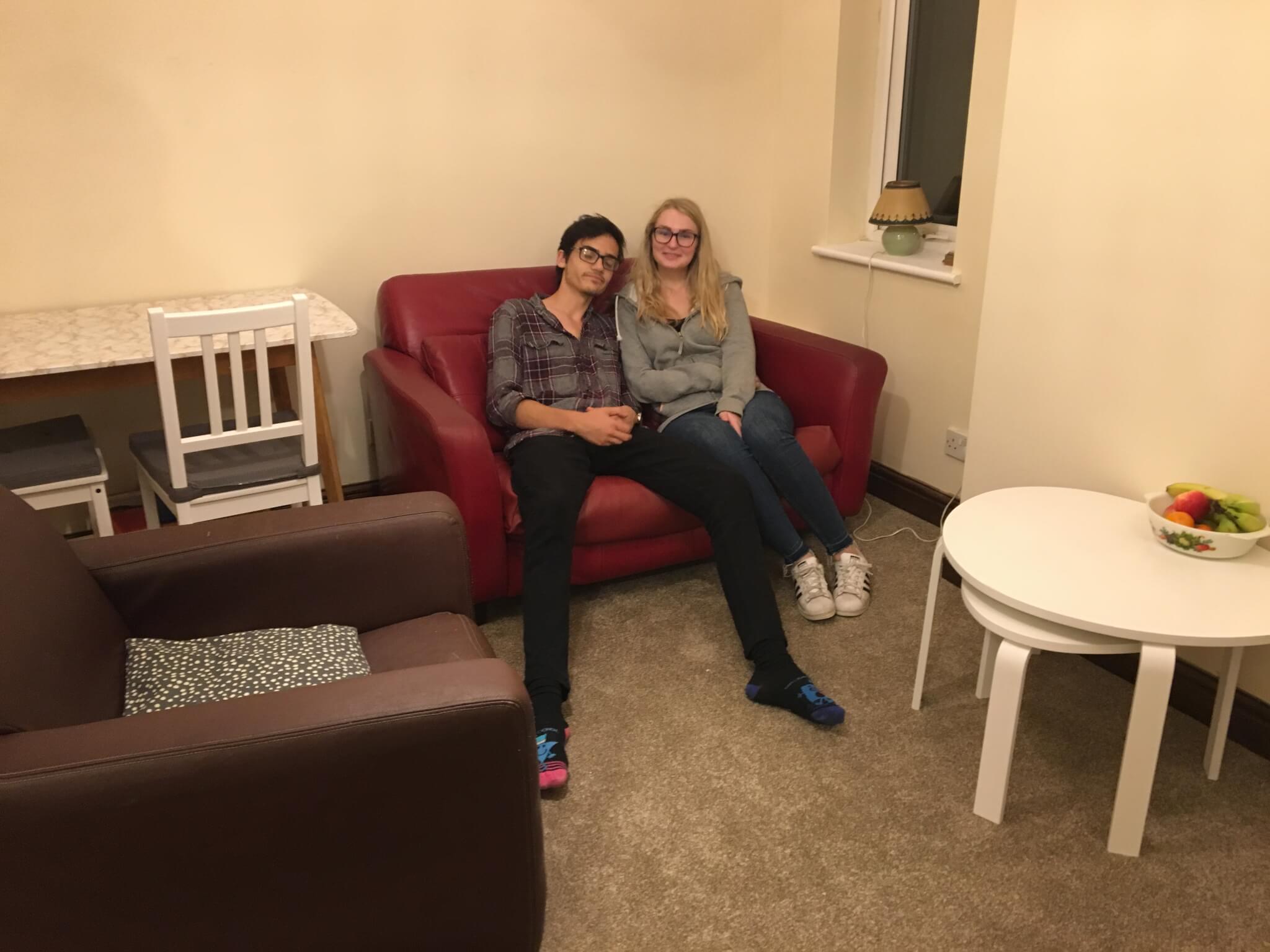 Ali and his girlfriend Anna moved into a flat in Bromsgrove, while Ali finishes his final year at Birmingham Uni. They have both been working for Geolabs, who Ali first worked for a couple of years ago in Watford. Our friend Sarah Melling put in a good word for them at a time of high debt-anxiety, and Geolabs have been fantastic employers ever since. We installed a vanload of Ikea furniture for them (as we also did for Josie & Georgia), which apart from being handy to sit on, has improved everyone's furniture assembly skills no end. I also take great pride in being the first person ever to buy a washing machine (or indeed anything) using Google Pay in the BHF pre-loved furniture megastore in Northfield. As Ali's flat is right next to the station, he has been car-free since the summer – so Chorleywood's cheapest and least functional car has been back on our drive. However, I am pleased to report that I have managed to solve the problem of constantly stalling when cold by emptying a can of carb cleaner into the throttle body. Next up: replace all the fuel injectors (again)!
Anna has just gained a place with a scholarship at the Royal College of Music to study flute – she had previously been at the Academy but just could not get on with their approach. So it looks likely that Ali and Anna will be back with us from the summer – Ali is thinking he may go on to do a PGCE (probably at Brunel), but we will see what transpires. Ali has also been doing great work as quizmaster for the weekly Brum Guild quiz night, and has recently upped his orchestral playing.
Kirsty has had quite an eventful year – she took Grade 8 on both bassoon and saxophone on the same day, and managed to get a distinction in both. Then she followed this up with getting excellent grades at A level, so she is going to Cambridge to study music. Back at the beginning of the year, this looked unlikely, as her mocks were shocking. But thanks particularly to the expert help of her uncle Will Gunnery, she manged to get a handle on all the maths and further maths areas where she was failing, and made the grades. She is going to Robinson College and apparently will have a piano in her room.
Since the summer Kirsty has been working hard on a variety of jobs – doing some useful stuff for us in the office, tutoring music and maths, and also working at our local The Stag. We consider it an important life skill to be able to serve in a pub/restaurant – and it's entirely likely that's all the work that will be left in a few years in post-Brexit Britain. Better brush up my servility face.
Anyway, enough of the doom and gloom, Kirsty also won the music prize at school and a new composer's award at RCM, conducted the choir at school, and had tea at the Ritz with N to celebrate her 'A' level results. Recently she has had her hair cut, so it is now regaining its natural curl which some of you may remember, and she sang with the Vigala Singers in St James' Piccadilly, in their annual Carols for Shoppers service/concert which I can't recommend highly enough – the quality of the music there is just fabulous. Kirsty has also had a bit of an introduction to opera this year, with La Boheme at ENO with our friends Kevin & Nicola Wilson, and to Cosi at Holland Park Opera in the summer with me (cheap seats only!).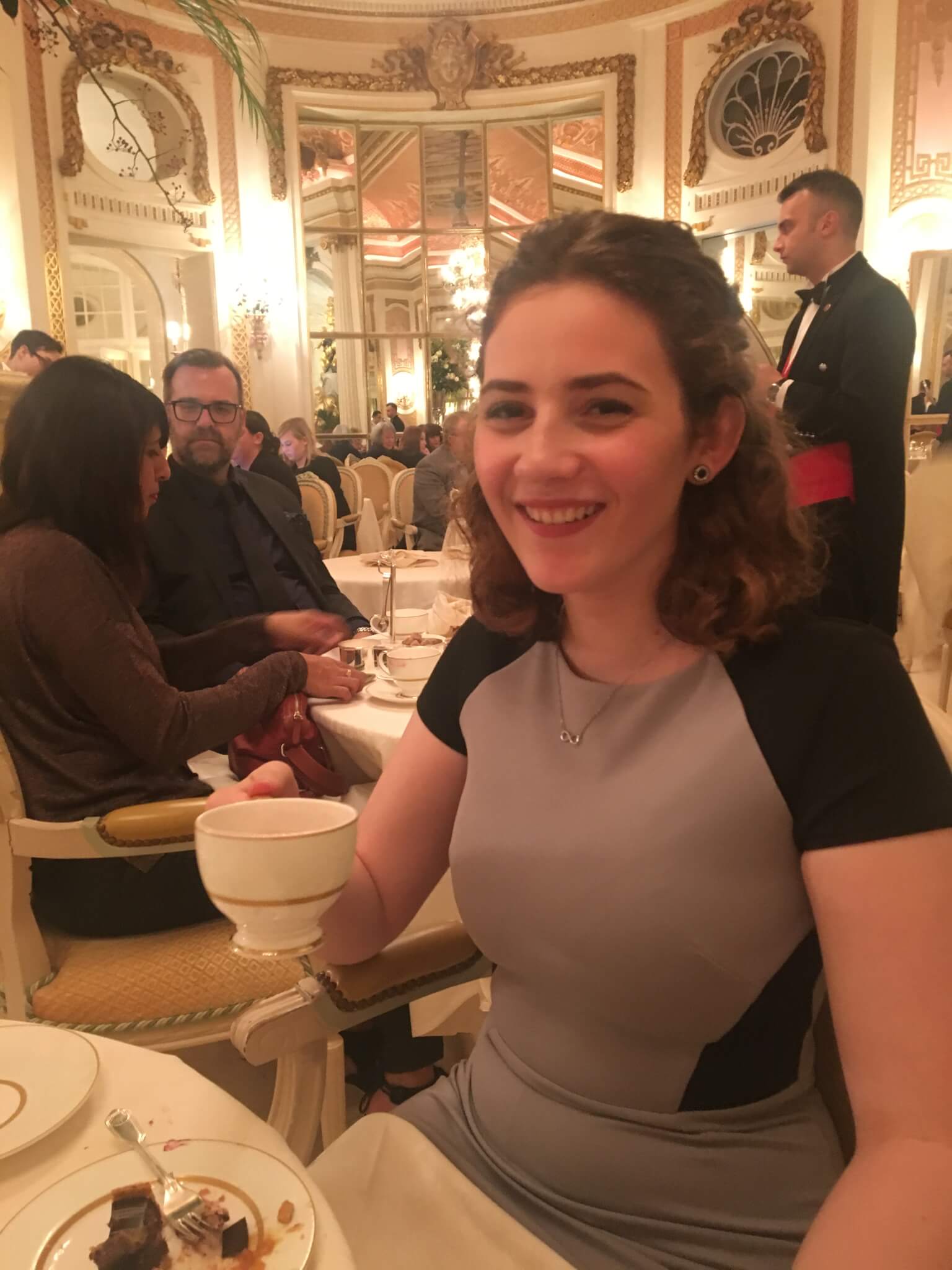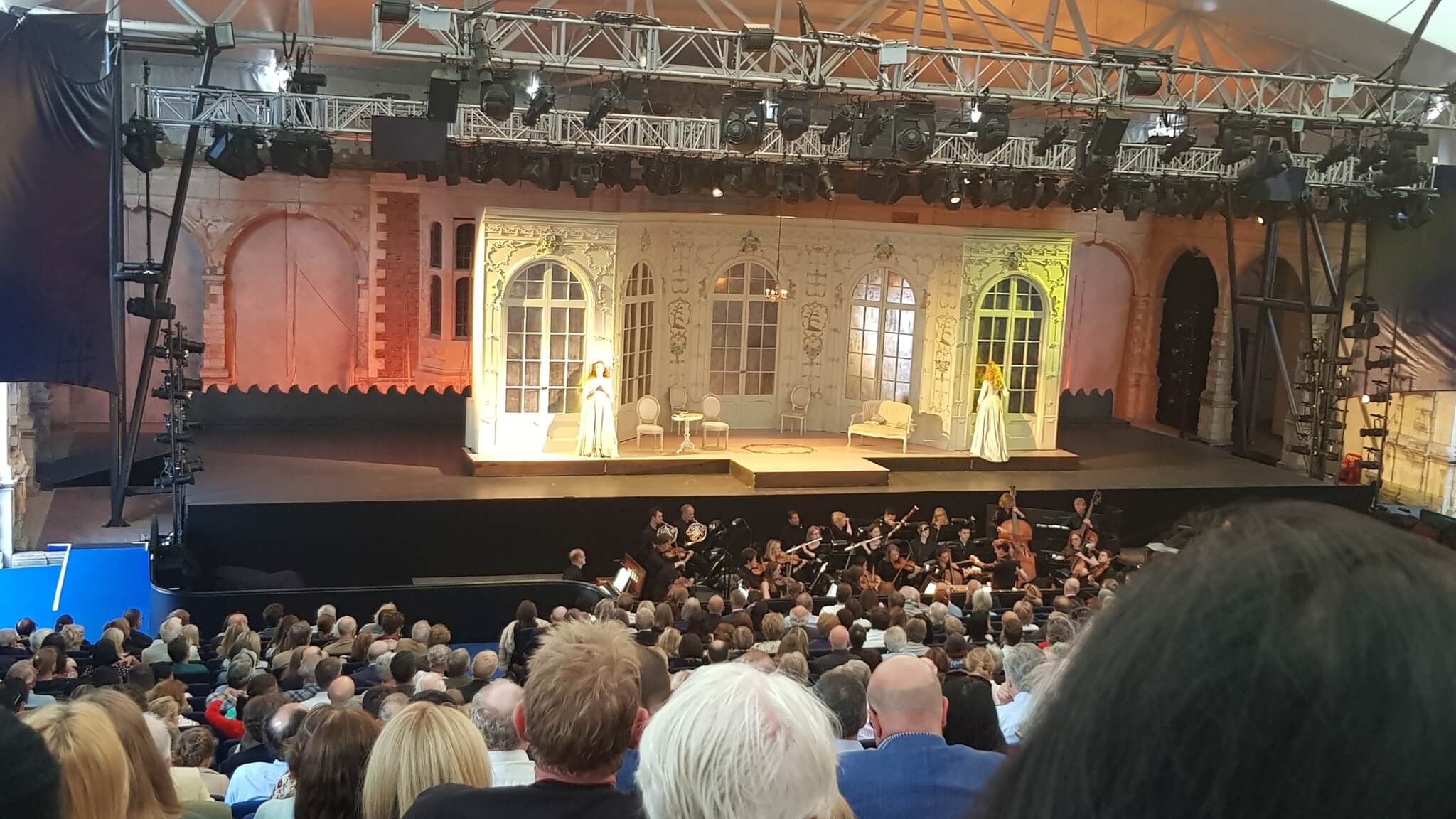 Lizzie, Jonny and Xavier are now in their GCSE year, and all working hard 😉. All have continued doing Stagecoach, taking part in a big gala at her Majesty's Theatre, and J & L have been performing in the HSSO and Watford Youth Orchestra, including at Birmingham Symphony Hall. All did their Silver D of E in the summer, with attendant volunteering etc. Jonny and Xavier went to Tech Camp (to do game design) and Explorers camp in the summer.
Lizzie went to Music Camp at Wavenden which she really enjoys – highlights this year included handbell ringing (see the video here!). Lizzie also went to Georgia's parents farm to help with lambing (with Josie this time). Lizzie has also been to the ballet with her Godmother Nicola Wilson, and all have been to the theatre a number of times including recently to Macbeth at the RSC with Christopher Ecclestone. J & L recently took their half-day off for Commem in London and went to the London Bridge Experience – this apparently involves being chased around a dungeon by axe-wielding zombie actors. Much fun was had by all (not me sadly, I had a work crisis that day, although I did make it to the church to sing in the adult choir).
Xav has finally had recognition from the school that he is on the Asperger's spectrum, which means he can take a laptop in to school. So he has a fast new laptop which has been his pride and joy. Xav also achieved a Merit in his LAMDA bronze level, he really is very good at drama, but he affects to despise it. I guess it's just an act (I'm here all week folks!). L, J & X will all do their Silver LAMDA early in 2019. Lizzie achieved a distinction in her Grade 6 Singing, and both she and Jonny are working on grade 8 for oboe and cello respectively. Xav has continued playing the drums and piano.
As a result of Josie moving out, we have had a shift round of bedrooms, which means that both Jonny and Xav have their own rooms now – this took Xav a little while to get used to, but I am sure he appreciates the privacy now.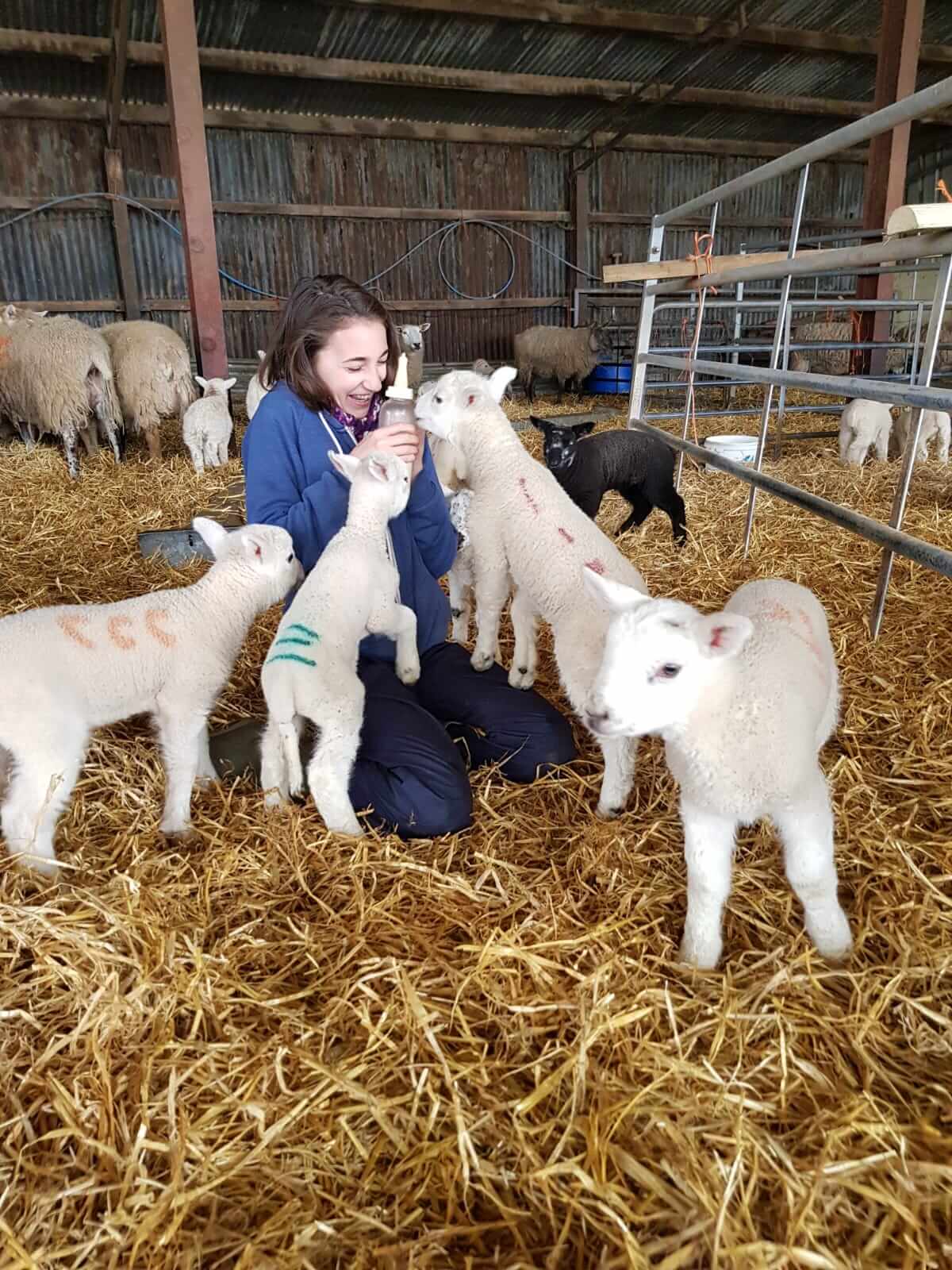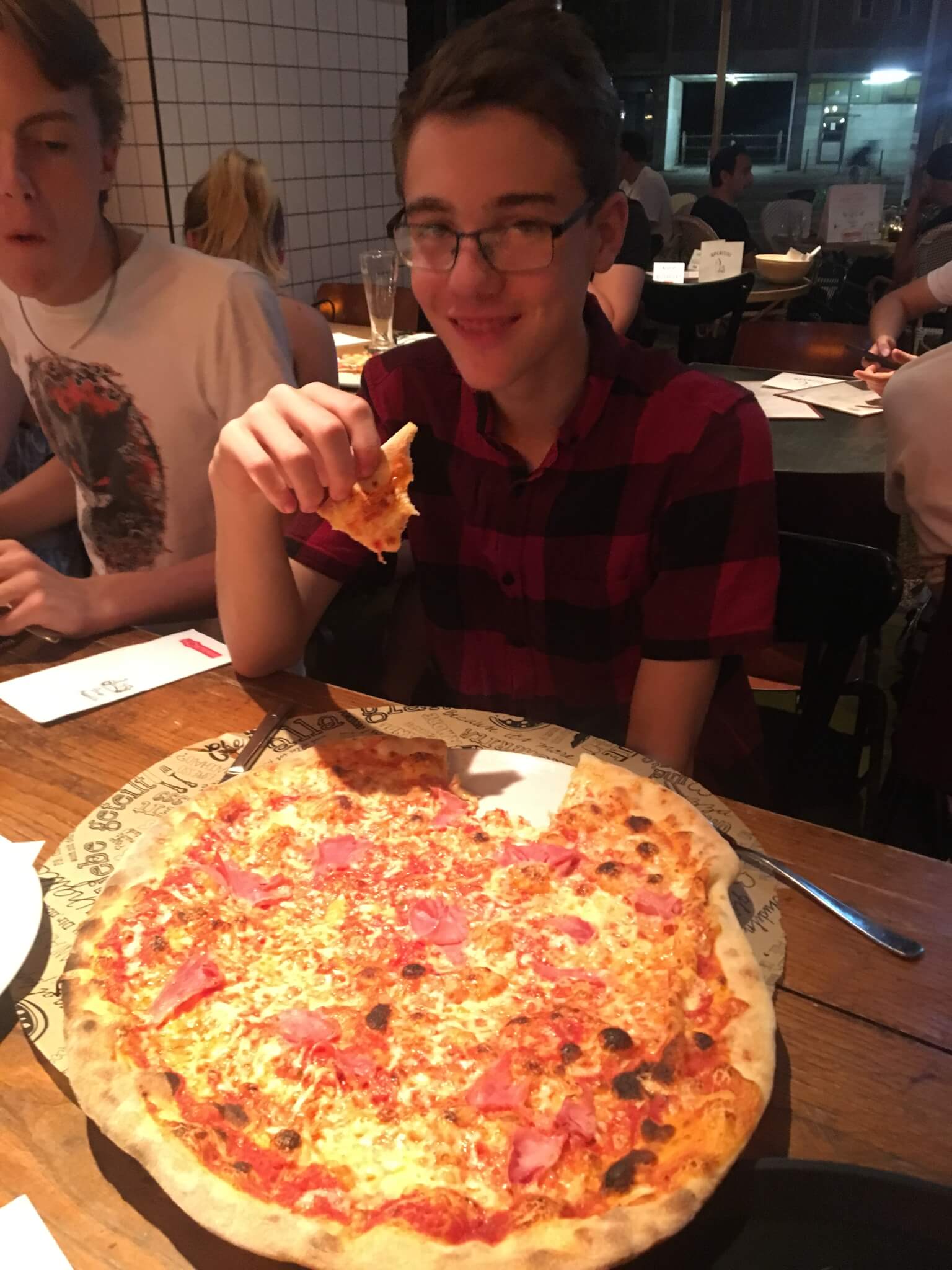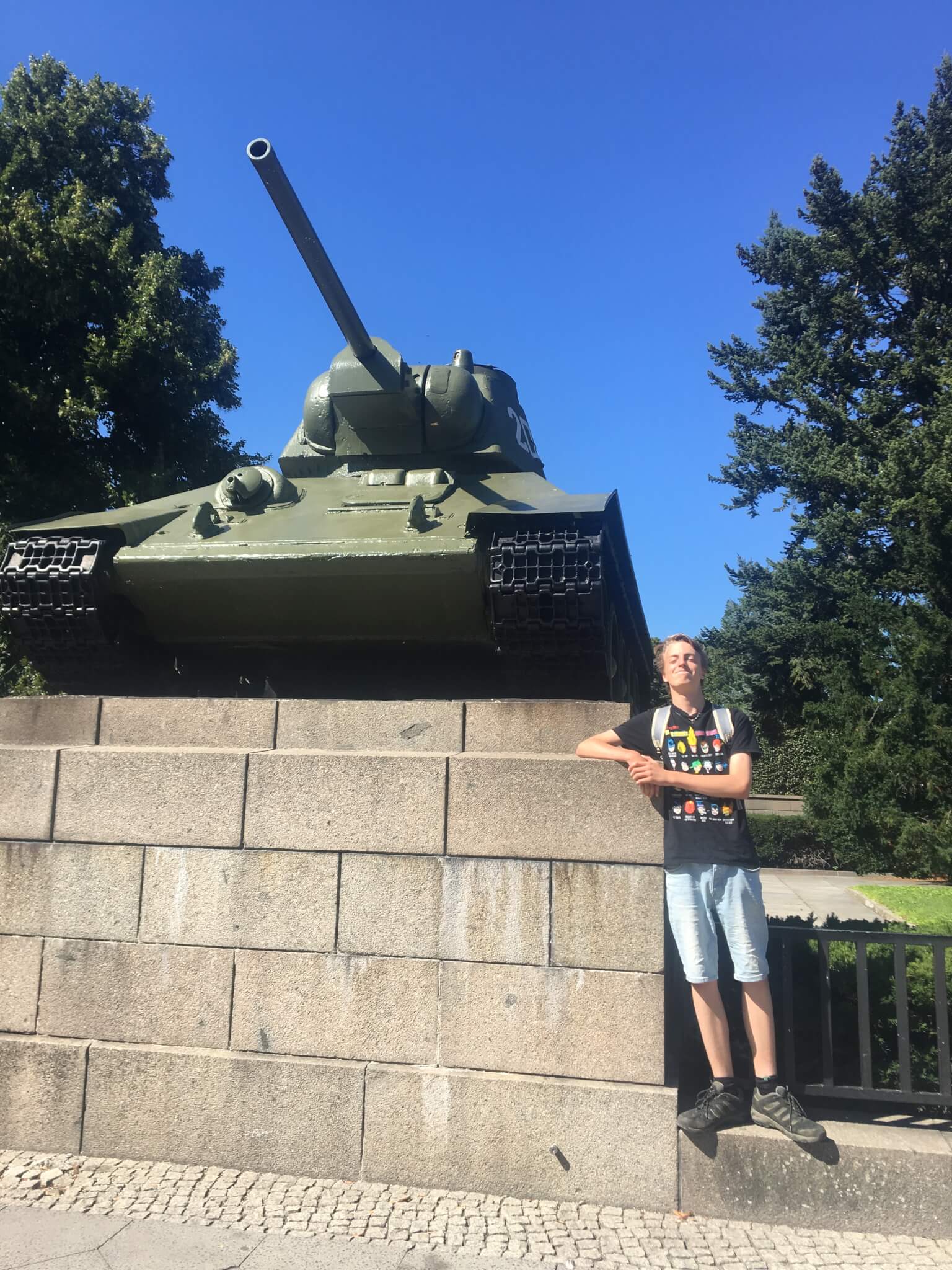 We had a family holiday this year in Berlin – with various partners, there were 10 of us, so we were a bit restricted on cost and stayed in an extremely cheap hotel – it's only now that we've been that we realise there is still a huge difference between east and west Berlin, and anything cheap will be in the east, where power cuts still happen on a regular basis, vagrants and stoners roam the streets, etc. However, the hotel did the job in a slightly perfunctory way – it wasn't so good when the temperature was up to 37 degrees, with no aircon. But it was close to the Metro, and did a good (if slightly wasp-plagued) breakfast. And I am sure you will be delighted to hear that German efficiency still makes itself felt in various critical areas – for example, giving a parking ticket to any idiot foreigner who has the temerity to park on the side of the road facing the WRONG WAY.
While in Berlin we did all the touristy things (that we could afford) including the Victory Tower, Reichstag, Musical Instrument Museum, Charlottenburg, Hamburger Bahnhof (enormous modern art space), the zoo, the WWII bunker, Alexanderplatz, etc.
The team also went for a day at a water park somewhere in a vast building, which is apparently the old Zeppelin factory hanger, now converted to a tropical paradise. A metaphor for our times!
We travelled everywhere by public transport and Shanks's pony, which was just sooo much cheaper than London. And we ate in a variety of unpromising ossi areas, where thanks to TripAdvisor we managed to find some excellent restaurants – a particular favourite being Burgermeister, which is in a converted public loo under an elevated railway. However, the reviews were right, there was a queue a hundred yards long waiting to eat. This was clearly the eaterie de rigeur for all of Berlin's night people – most of the queue appeared to be gearing up for a hard night's techno dancing, glue sniffing, pimping, sex work, etc. However everyone was very friendly to us, and there is strength in numbers after all.
We also ate at a very bijoux creperie – when we turned up to eat one evening a very harassed stand-in chef said there were just too many of us and he couldn't do it. So we moved on, slightly miffed. But the owner then phoned and texted me so much the next day pleading with me to come back, I gave in, and we ended up with a great meal, with free beer thrown in as well.
The only downside of eating in these places was that nobody takes credit cards, it's strictly cash (and who can blame them?). So all my fancy London fintech preloaded plastic was completely useless.
We had driven to Berlin in our trusty old Vito, which had to have several girders welded on to the bottom in order to pass its MOT. Although it did make it there in one piece, I suspect that is the last road trip it will make. And just the other day coming back from the CYO concert at Haileybury it suddenly lost compression and only just limped home. I don't know what that is yet, but I have a strong feeling it may be terminal. But back to Germany – on our way home from Berlin we called in at Josie's former employers the Vogelsangs who live in a small town near Koln – as always Gerald had slaughtered several animals for us to feast on, and we rolled out of the door afterwards. Josie and Georgia stayed on for a couple of days, to spend time with the Vogelsang children, who have very fond memories of Josie from her time as an au pair there.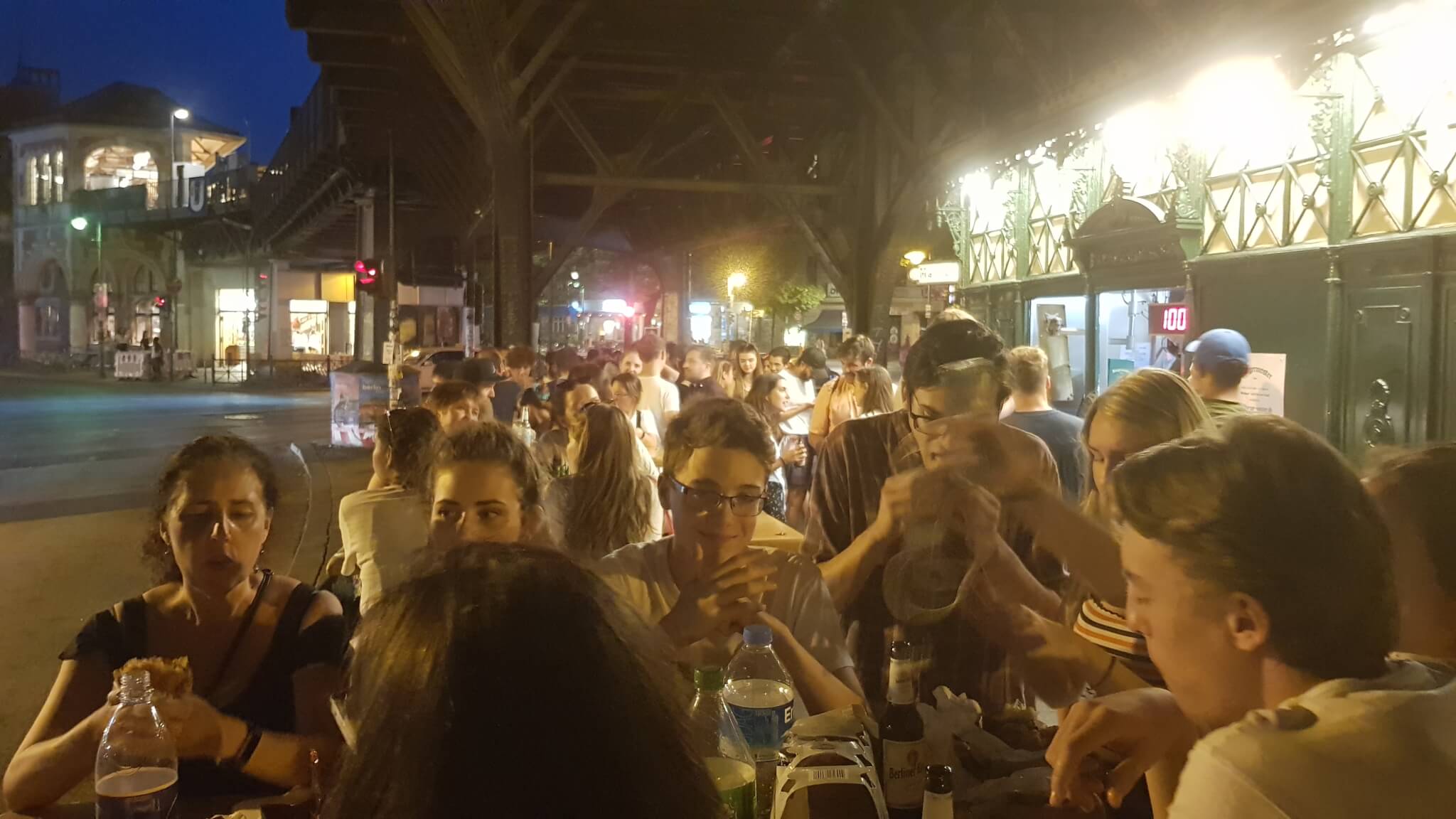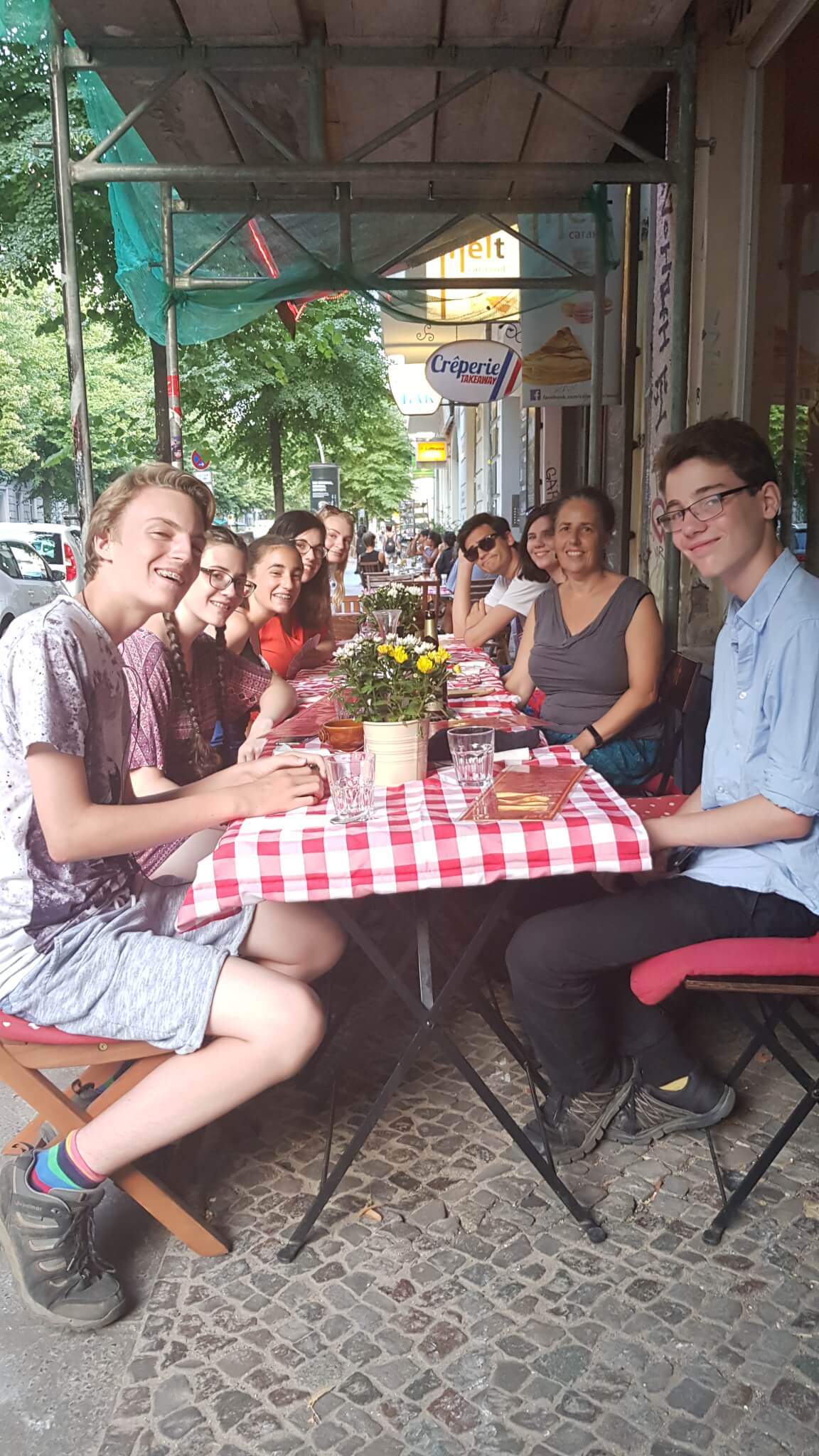 Kirsty playing the Theramin
Nicola and I have been actively trying to reorient our lives back towards our own interests, as the family are getting older and the end of full-on parenting is in sight. So Nicola has been working towards her Yoga teaching qualification, which has involved several weekends away at retreats, and a week at a course in Lesbos. She assures me that none of this is as exotic as it sounds, and one thing's for sure, she can certainly do some insanely tricky poses now. We also managed to get 10 days away on holiday by ourselves, at Lydia and Nick's lovely house in Spain, which they very kindly let us use.
I was able to go running every day along the littoral at dawn, and we were able to just enjoy each other's company again. We drove down to Granada for a couple of days, and went to the Alhambra, principally to bone up on water features. And we tried out the Hammam al Andalus baths which are a faithful recreation of a Moorish bathhouse, on the site of an actual twelfth-century bathhouse. I know this because I saw it featured on a TV program back in the UK. The baths consist of several vaulted, candlelit rooms, covered in Mosaics, with baths of varying temperatures – now this really IS exotic, and I can't recommend it highly enough.
We've also had a few spa weekends, generally with N's sisters and husbands, and Nicola also treated Josie to a spa weekend, where she was of course entirely in her element. We went to stay with the Dalbys in the spring for a few days, to help look after their granddaughter Olivia (2). Those of you in the grandparent position I'm sure will recognise that the minimum safe adult-to-toddler ratio is 4:1, so we like to do our bit when we can. We were delighted to return the favour when the Dalbys, including Olivia and her mum Emma stayed with us for a few days recently.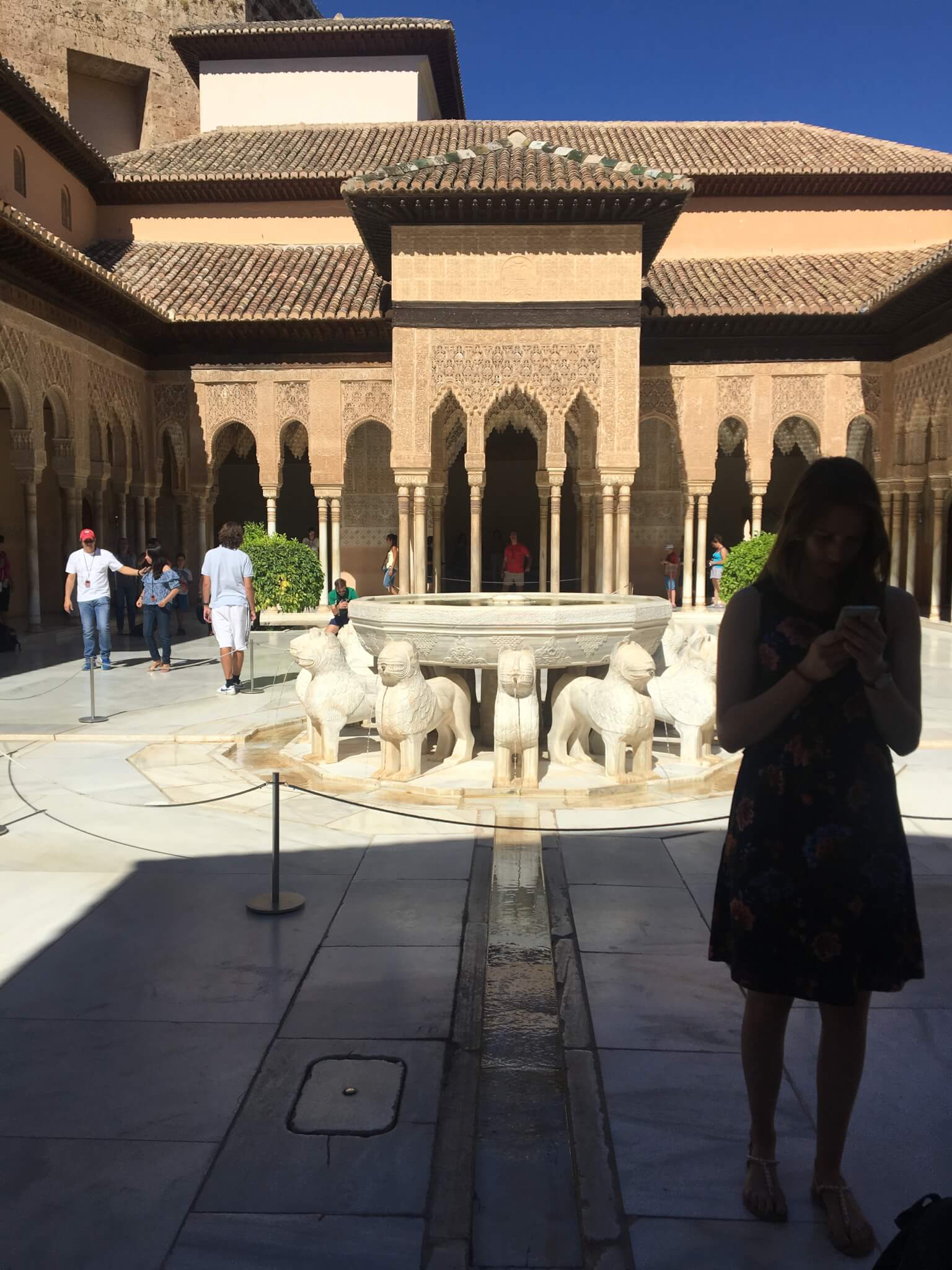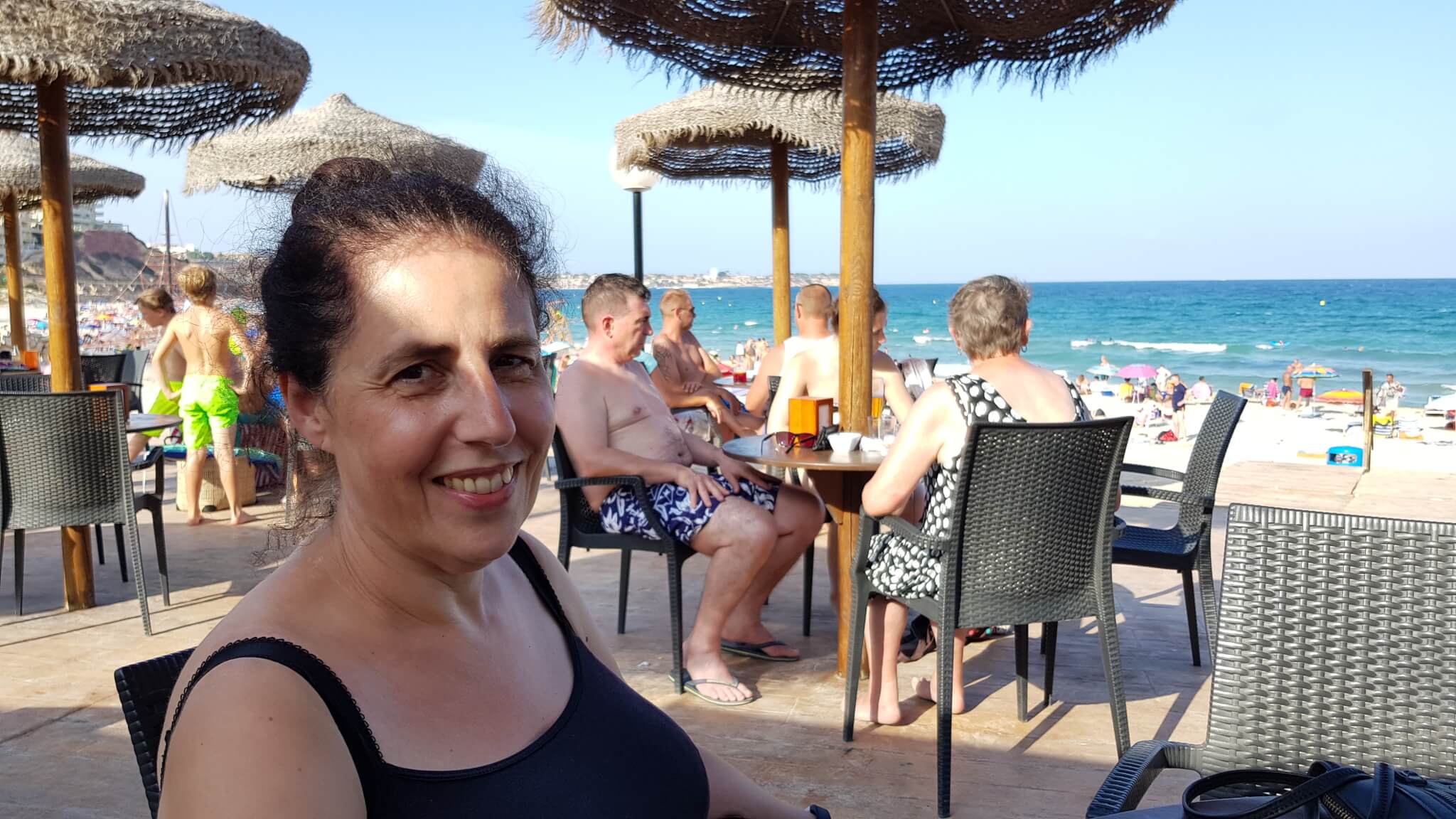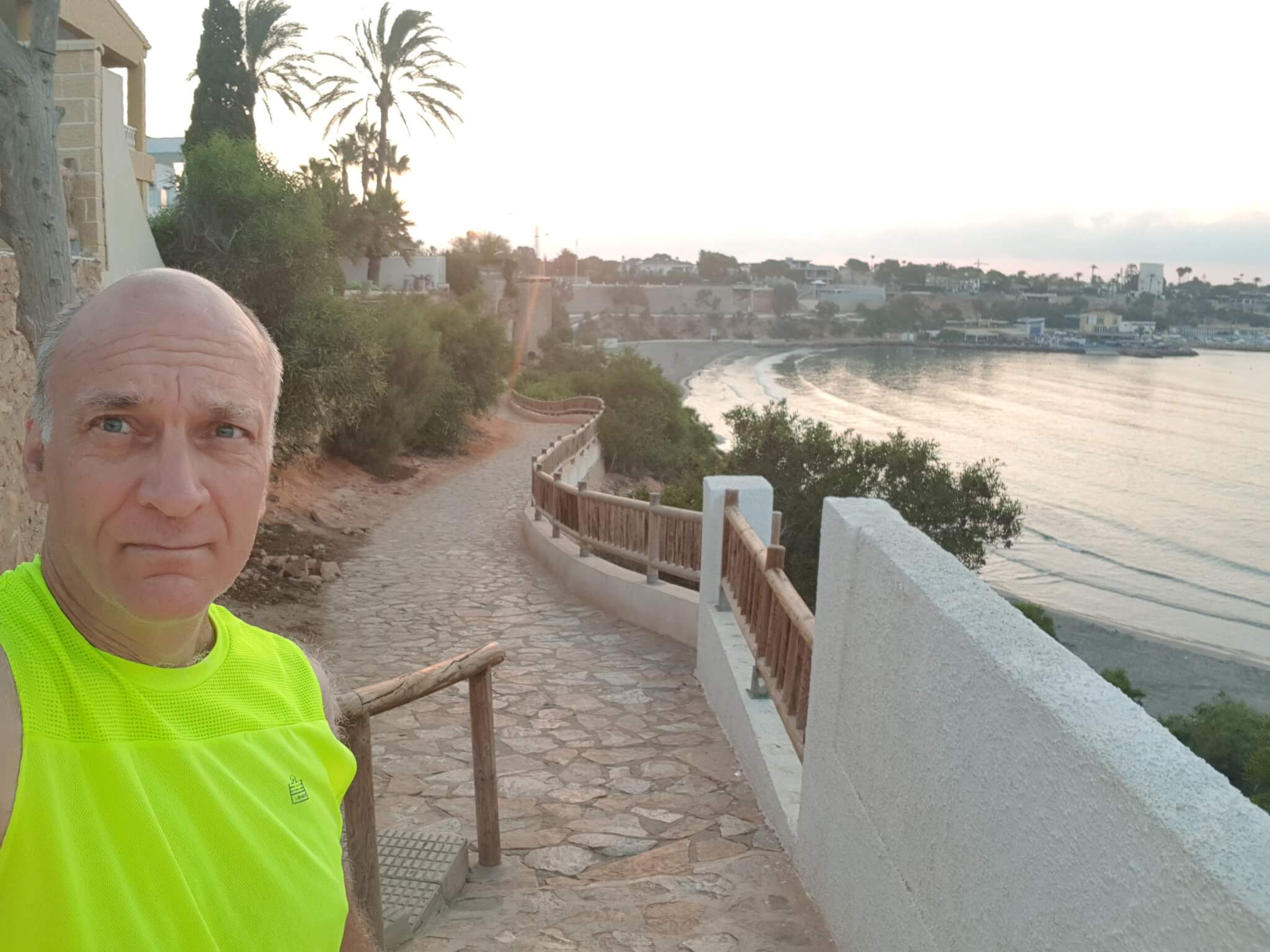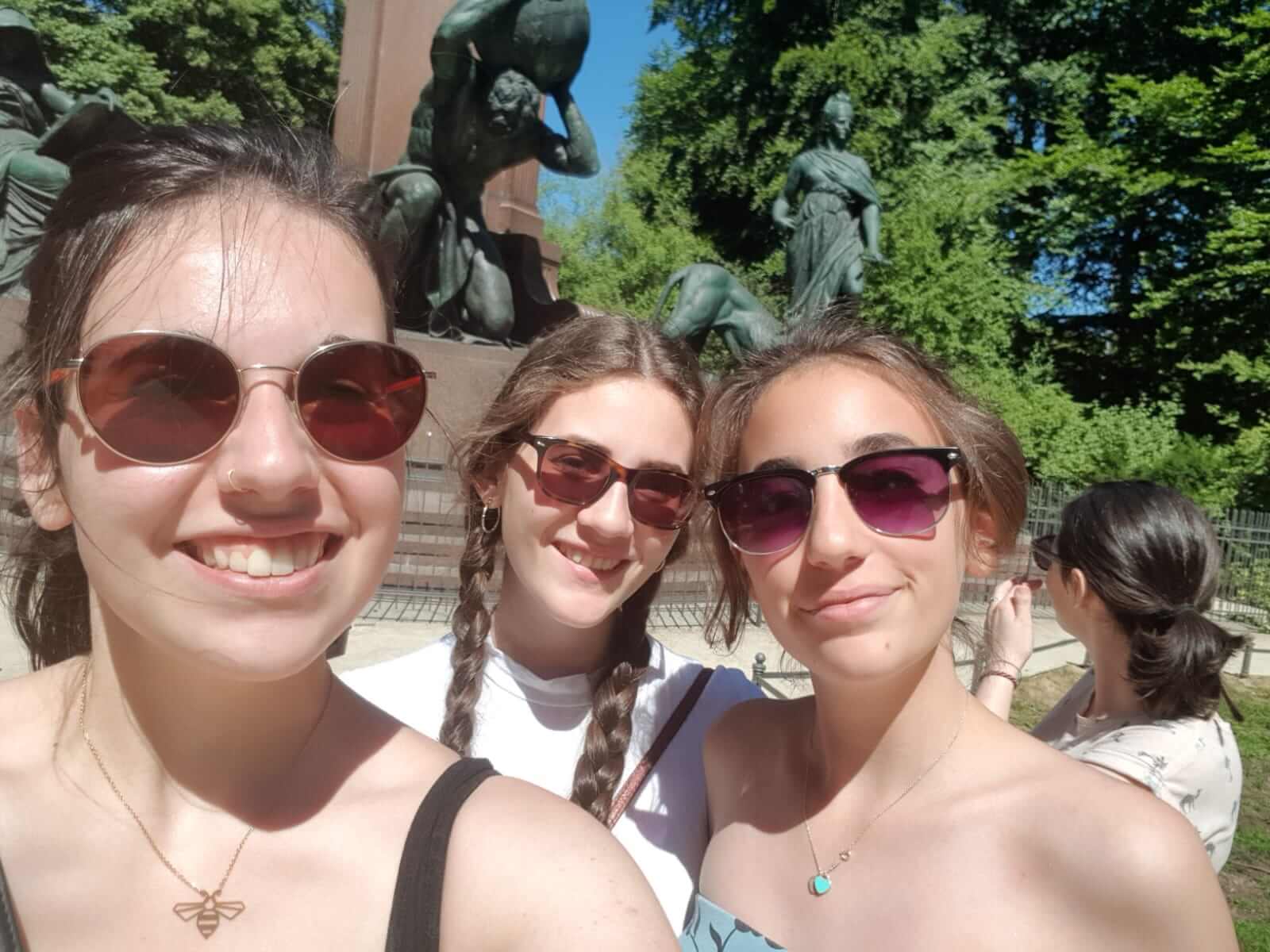 Nicola has stepped up her networking activities, and is now chair of the Chiltern Chamber of Commerce, which has led her to appearing on local radio and at all kinds of events. She's been doing a lot more presenting generally, which again is moving her work into new areas.
Early on this year we realised that our 15-year-old conservatory was falling apart – the roof was leaking, all the glass panels were blown, and the hinges on several doors were bent to the point where there was a half-inch gap left when the door was closed. When we explored replacement costs, it became clear that building a proper sunroom would not cost much more. So we have done that – financed by remortgaging on a 5 year fix, which we wanted to do anyway given the poor economic prospects for the short to medium term.
This has created a much more usable space, which has so far been experienced by Nicola's informal yoga class attendees, and used as a skating rink by visiting dogs. I am also being continually badgered by teenagers about parties, and it doesn't seem to matter how frosty I am on the subject, they don't give up.
If you have been here recently, you may have also heard Kirsty playing on a different piano – this is a baby grand which came out of Mid-Herts Music Centre ten years ago – when they were about to skip it – but was rescued then by Nick, one of Nicola's colleagues at the Friends of Herts County Youth Music Groups charity. Nick has now decided he needs his living room back, but wanted to ensure the piano went to a good home – and we have been pleased to provide it! It's now been tuned, and sounds lovely, but still has to be played from a cane chair as the new piano stool is stuck in Germany (frictionless trade, anyone?).
That is about it for the year. For anyone interested, I have been carrying on with my usual pursuits of house maintenance, car maintenance, and a little bit of painting when I can. I am still doing Scouts, which I will probably continue with until this summer, and then consider further. I had some health issues earlier this year which required some very unpleasant investigation, but came up all clear. I do have diabetes to deal with, but then, who doesn't these days? I have lost quite a bit of weight, and I have been running every day for over a year now, so I am actually feeling pretty good. If only I could remember where my glasses were, everything would be perfect.
Apologies to anyone I have missed out, and I wish you all the best for 2019.
The girls get to grips with Mr Ikea's finest
Dan explains how to write an SVG waveform aniamtion, shorry, animation