The Ryall family Christmas news 2020
Although I know a few people who say this has not been the best of years, I am happy to tell you that in the Ryall family we have had quite a few bright spots among the gloom, and we are even confident that we have enoough pasta to get us through January, whatever happens at Dover. Personally, a lot of my year has been occupied with Bouganvillea anxiety, as I tried (and failed) to grow the wretched things in the sunroom. However, onwards and upwards, no doubt there will be new and hardier varieties next year. Also as I write this I have just heard that a Brexit trade agreement has been reached. Apparently we caved on fish, but it's just as well we didn't let the whole thing flounder on this sole issue.
Nicola's father Michael sadly passed away this year, after a rapid decline. His funeral in August featured a wonderful tribute from Steph, poems read by Josie & Nicola, and 'Dad's rules' from Steph – these were pretty well straight out of a 70s sitcom. Nicola and Veronica also received many tributes from former colleagues around the world, who were all fulsome in praise of his psychometric work.
My stepmother Val also passed away this year, after some years of illness. She was a great comfort to my father Paul, who misses her immensely. Sadly we have not been able to see much of either Veronica or Paul this year due to lockdowns and precautions, although we have been keeping in regular contact, and the Kirton ladies zoom calls have become a regular Sunday afternoon fixture.
On a trip up to see her mother Veronica in the summer, Nicola had some problems with the Mini, which of course had not been used much during the first lockdown. The plastic rocker cover (French design) melted into the cylinder head, resulting in the whole engine and ancillaries requiring rebuilding, which was ridiculously expensive. However, we had to get it done to keep some value in the car. Afterwards, despite the car running better than it had for some years, we determined that it would suit some new owners better now, so we chopped it in for a small, used electric car. Which is very interesting, cheap to run, and accelerates far more rapidly than its brakes can actually deal with. We have already had some fun and games with this as a local tyre company did up the locking wheel nuts with an air gun, resulting in one of them snapping the key, and having to be drilled out. At their expense.
While we are on the subject of mechanical failure, somebody put a doormat or similar through our beast of a washing machine, resulting in terminal innards failure. It had done 7 years, which is pretty good with our lot, so I can't really complain. After extensive research we established that the best replacement was in fact the same machine, although it has an updated UI which involves a touchscreen in the door. If that lasts 7 years I will eat a doormat myself.
During the summer we also stayed with the Dalbys in the Wirral, I helped Nick build a new shed, due to my huge amount of shed-building experience, and did some wiring, which I believe has not caused any postcode-wide power cuts yet. We also walked out to some islands in the estuary, very enjoyable except for Kirsty who got sunburned. Lydia & Nick treated us to a sumptuous Ethiopian meal – excellent vegan and carnivorous fare, kind of stews with chilli and tortillas. Kirsty stayed at cousin Emma's house where I believe some wine was consumed.
This year we have instituted a regular pizza/film night, mainly to watch The Mandalorian, but I have forced the kids to watch ye olde classics such as the Godfather and Chinatown on other nights. Actually we have watched quite a lot of TV this year, but I have declined to join Lizzie for Fleabag, for obvious reasons.
Josie gave us tickets to see the Strictly tour in January – lots of fun and sequins at Wembley, and a rather different crowd from the previous time I was there for the late great Leonard Cohen. Also early in the year Lesley Samms & Nicola took Paul & myself to a vegan restaurant in London – which was absolutely rammed, and surprisingly tasty.
In the early autumn Nicola and I managed to get a mini-break to Chichester, we stayed in a great hotel which featured an illuminated loo. Sadly I don't have any pictures of this.
In the business we have survived 2020, and we were delighted to win an International Award for CSR, and have been accredited gold for CSR. Our colleagues Chloe & Simon have been on apprenticeships – Chloe has passed, and Simon will finish in 2021. A big thank you to both of them for their hard work this year, in very trying circumstances.
We continued to get lots of exercise through the year, including lots of long walks (children have continually complained about Nicola's pace) (too fast), and N joined me in running around CW during the summer, though it's only me out there in the dark now.
Nicola continued playing with Chorleywood Orchestra, who managed a concert at New Year but have only been able to have occasional sectional rehearsals since. She went to the Picasso exhibition with Lesley at the RA, plus one on the environment, which was recommended by Lizzie, and also had a Spa weekend in the summer with Lesley, with a bit of shopping in Burford (and plenty of tea breaks).
N's Yoga plans have been thrown completely out of joint by the pandemic – she only managed one training weekend, and didn't get to go to Lesbos for a week's retreat which would have seen her qualified. She has done a little teaching during the year, in the few months when it's been allowed.
Nicola is working hard to move KAI forward – venturing into new areas, with a range of exciting new opportunities, which should keep us very busy next year. She would like to thank all the members of the KAI team who are working hard to move us to the next level – especially Curt Friedel, Megan Seibel, Priscilla Wolfe, Iwan Jenkins, and Rob Sheffield. Also our thoughts go to Alfonso who is writing the new unified KAI Online website, but who has been in hospital for the last month with Covid.
Nicola has also become the jigsaw queen during lockdown – we have now exhausted all the fine art jigsaws by Ricordi et al and are reduced to cityscapes and cat cartoons.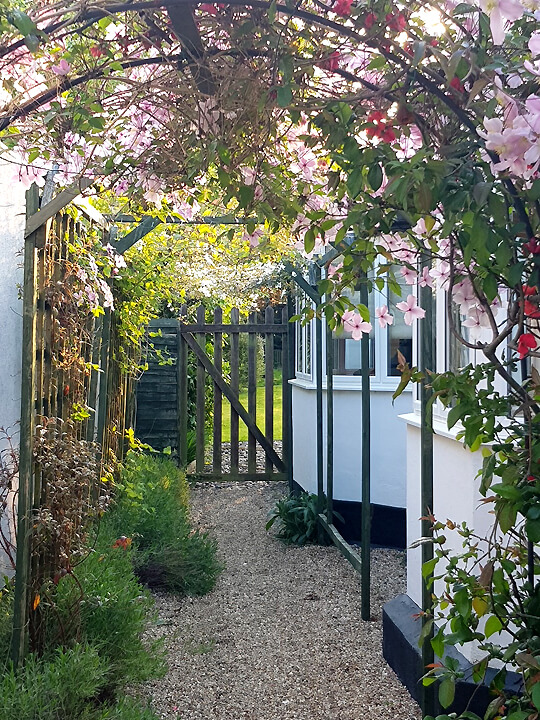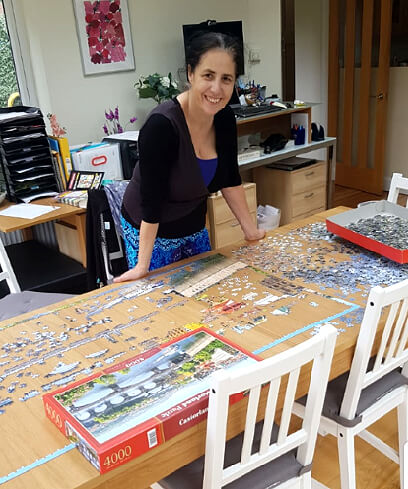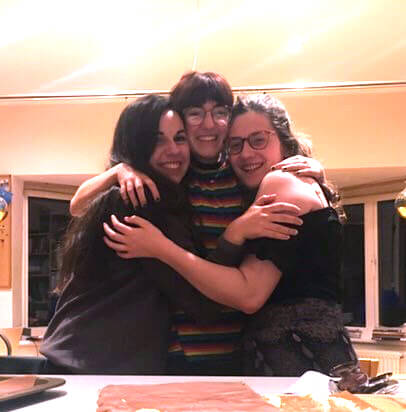 Josie & Alex
Josie has spent most of the year with her partner Alex – who took the plunge and moved in with us in May, after just a few dates! However he must have been prescient, as he fits in here perfectly – he is a Maths grad, does jigsaws and cryptic crosswords, is into all the right fantasy films and books, loves musical theatre, and sings in an acapella group. What more could we ask for? Josie has meanwhile been working hard on her domestic goddess bit, impressing Alex with her scrambled eggs and baking. At least for the first month.
They are in the process of buying a house in Chesham, this is proceeding even more slooooowly than usual due to shortage of staff to deal with searches, etc etc. But with a bit of luck they will be in by the end of Jan.
In the summer Josie & Alex had a holiday in Cornwall at Alex's family holiday cottage – they also bumped into Josie's rocket-fuelled cousin, Hector, at a seal sanctuary! The seals were, in fact, seeking sacnctuary.
Alex had a scare with his eyes during the year – one of the pupils got stuck on wide open so he had to wear dark glasses all day. After some visits to Moorfield they are much better, although the beguiling faux-naivete is still intact.
Josie continues to do well teaching at STAGS, despite it being a really difficult year for both kids and staff. The long break from school seemed to wreak havoc on some of the kids' understanding of discipline, which caused a lot of problems when they returned in the autumn.
They both visited Bath – for friends George & Tegan's surprise engagement.
Josie went to Cambridge to visit Kirsty and their friend Barnaby – Kirsty then tested positive for Covid, so everybody here went into isolation for a bit, and had to get tested. Fortunately we were all OK.
Loads of walks & bakes/bikes. Josie has also been growing a chilli plant – it is very tall, but no chillis.
J&A went Axe throwing in the summer – this must be a bit of a thing now, as various others in the team have been doing it this year as well.
Ali & Anna
After being rejected for over 60 grad schemes over more than 12 months of heartache (despite a 2.1 in Mechanical Engineering from Birmingham Uni), Ali finally got an offer from Liberty Global (owners of VM & O2 in the UK), which was exactly what he had been after. It isn't easy for anyone to get this type of position, made so much worse by the lockdown. Thanks to lots of people for their help with this process, including David & Sharon Shapiro, Kevin Wilson, Andrew & Kitty Gould, Simon Savage and Paul Samms 😊 His role is an excellent opportunity, as he has direct contact with some very senior people at Liberty Global.
Ali went to the Netherlands in September and found a lovely flat in Leiden to live in – the office is in Amsterdam – but was back again in December, as the Netherlands went into lockdown, and the whole company had to work from home. A shame that he was only there for such a short time – we were all planning on lots of visits. However, the plan is he will go back in January, Tier 4 etc. permitting. The (online) quiz night & wine tasting staff event really proved a great deal of fun, although Ali needs to learn you're supposed to spit the wine out when tasting, not finish each bottle before moving on (fortunately it was online so no-one saw… so his secret is safe with us)!
Ali is taking CIMA exams as part of the grad scheme. He has sat the first two and passed with room to spare. However, there are plenty more exams where they came from, and it will take at three years to complete. He is finally now debt-free – which makes him very happy.
His girlfriend Anna remained living with us, as she is in her final year studying the flute at Royal College of Music. Great news, she worked her socks off for an audition to take an MA at the RCM, and beat off stiff competition of nearly 100 fantastic flautists, to gain one of 4 coveted places. Anna also did brilliantly to win an audition for the Koln Orchestra – very unusual for a student to be shortlisted. We have heard her practice – usually 6 hours plus a day – she is very dedicated and plays beautifully. Well done. Anna also bravely decided to switch flute teachers for her fourth year – no mean feat – and now is learning with two teachers – one is lead flautist with the LSO and the other at the ENO. Clearly the gamble paid off. Anna, with Dan Hogan, put on a concert in St Stephen's in London, which went very well. It was jolly hard work.
Ali has been carefully educating Anna on films over the past three years – she is now a dedicated Star Wars fan, and so now has more than confirmed her rightful place in the Ryall household. They also are dedicated Switch players, so lockdown hasn't been all bad, they have both developed their computer gaming skills.
Ali has been invited to be godfather to Kitty (from Stagecoach's) son, Edmond. He (and I) are really proud and delighted to be asked.
Sadly Watford FC was relegated from the premiership – both Angus & Ali mourn their departure – however, they aren't doing too badly in the Championship, so there's hope they may pop up again. On the plus side, I think Ali's fantasy football team might be doing quite well – he and Alex are in competition over this one. They do keep discussing tactics over breakfast!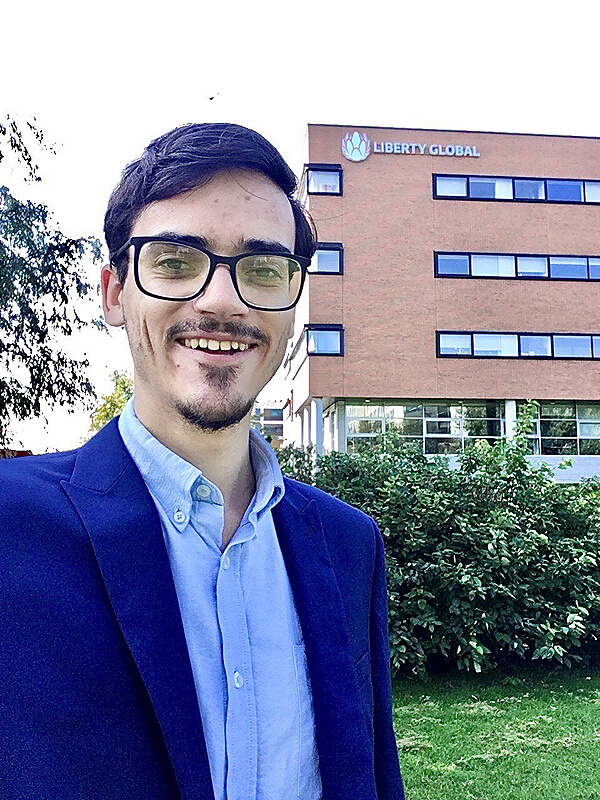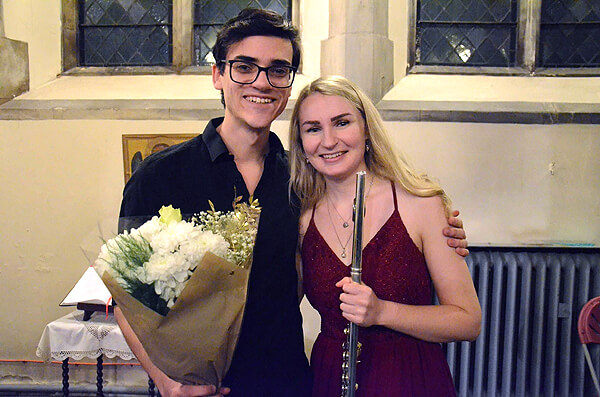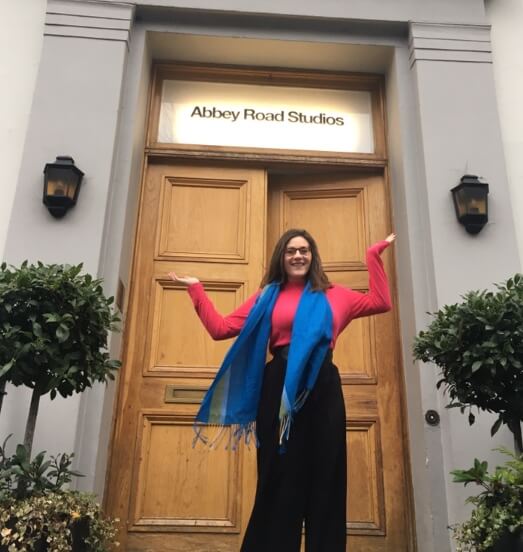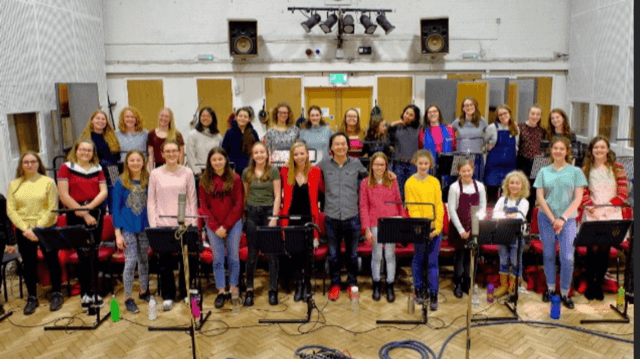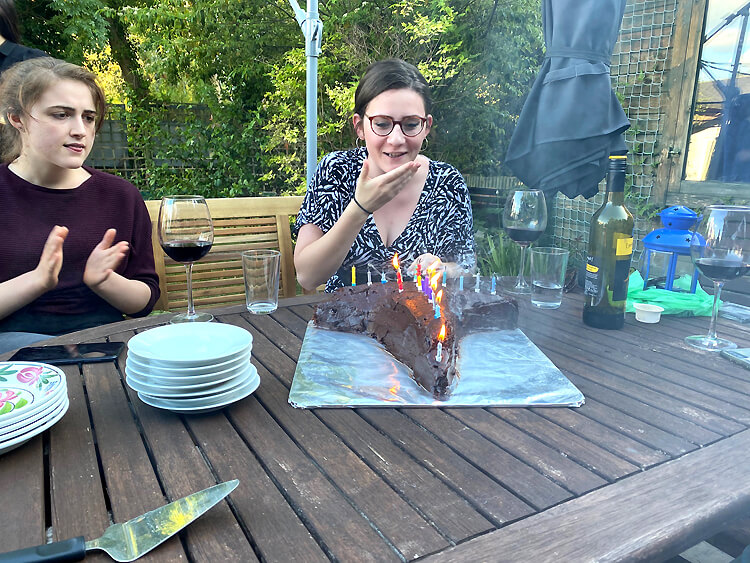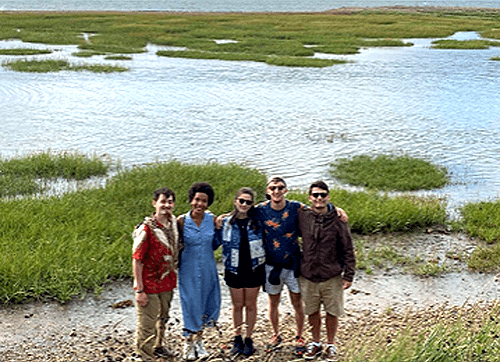 Kirsty
Kirsty finished her first year and started her second at Robinson College Cambridge. Angus, Nicola, Lizzie & Josie, plus Paul and Val, came to her recital in the Chapel followed by a 'formal' at the college. It was lovely to share with Paul & Val. Her end-of-year grades were a borderline 2.1/1st.
She came with us to the Wirral and stayed with her cousin, Emma and her daughter, Olivia. This apparently involved a lot of high jinks such as Jumping in the paddling pool with Olivia, fully clothed! Much to Olivia's entertainment. Lovely warm weather. We went to Chester, where we did some siteseeing (including the Cathedral & some interesting artworks), and a little gin tasting.
Kirsty recorded at Abbey Road studios, plus all the colleges where His Dark Materials were filmed. There is a link here to some of the music, it's Spotify so I'm not 100% sure how this will work. Do you have to wind it up first?
In the summer Kirsty spent two weeks with her friend from Cambridge, Rachael, in her home in Nottingham, amazingly they are still friends! And she had a weekend away in Chichester (which she can't say) with CUJO. Along with all the other musos at Cambridge, she managed to get Covid – which wasn't nice, but doesn't appear to be the long Covid.
Xavier, Jonny & Lizzie
All three achieved Gold Medals in LAMDA exams – Xavier a Distinction (thank you to the wonderful Teresa for her help), a Merit for Jonny, and a Distinction in Musical Theatre for Lizzie.
Ali passed some of his tutoring students to both Jonny & Lizzie when he left for the Netherlands, and now they have had referred work from other sources. 😊
Lizzie
Lizzie has suffered a lot from cancellations this year – music camp (which would have been her last one, as she is now too old and her daemon is fixed), her sax exam AND her driving test ☹ which has been put off until March. Such a shame as she is a really good driver (hem hem) and knows where the brakes are.
She is passionate about the environment, and has been to a number of demos in town. This year Lizzie has taken up painting in a big way, and has produced some excellent pieces. She is starting to work more with pallet knives, which is what I use when I can get to the easel. We are continually short of Ultramarine and Cobalt Blue.
She is studying Psychology, Biology & Maths, and it looks likely that she will take a gap year, which is probably very wise as no doubt there will be uni entry chaos again next year.
Lizzie was working with the younger kids at Kumon, where she was highly prized for her compassionate ccommunication skills, but she has given that up to concentrate on tutoring, as the money is just so much better. Lizzie is still singing, and should take her Grade 8 next term – if there is any school.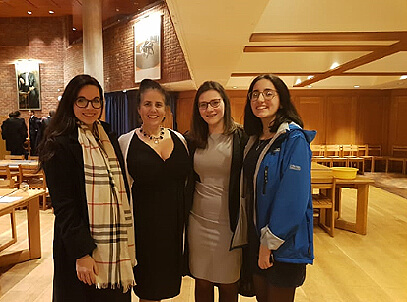 Jonny
Jonny played in the Herts schools gala at the Royal Albert Hall (Nicola was backstage at this event, shepherding a cast of thousands). This was the last event before Lockdown, in March. He has also continnued playing in the HSSO – but of course this is mostly cancelled now.
He has continued to date Tash, but it's been really difficult for them this year as she lives some way away and everything has been closed. However, they have managed to see each other a few times, and there is a lot of Zooming going on.
Jonny has applied to read maths at university – at some good places, but we don't want to jinx anything. Maths, Further Maths & Physics are his A Level subjects.
He has been doing quite a bit of tutoring, which is giving a good income. He had previously tried washing up in the local pub, but has worked out that teaching is more enjoyable and better paid. Also the pub has been closed for half the year, so that was a good business to get out of.
Jonny has continued with Explorers, despite it being mostly cancelled. Lots of zoom calls, plus axe throwing and other delights at Paccar – he didn't hit anything (not sure if that's a good thing or not). And they made their own open air cinema (in someone's garden) – in somewhat wet conditions.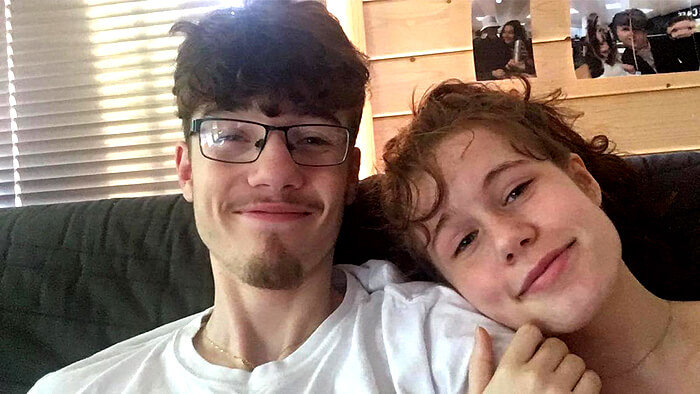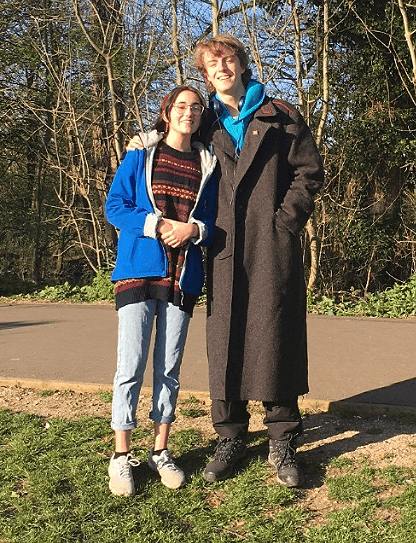 Xavier
Xav completely changed his A levels – from Maths, Further Maths, Physics and Chemistry to: Politics, History & English. He is really enjoying them, and is repeating year 12. Now he can finally put his encyclopaedic knowledge of the Russian Revolution to good use. I can't immediately see any use for the equally fulsome tank knowledge, but maybe that will emerge in time.
Xav is not driving yet, unfortunately it's been very difficult this year as there are just no lessons available. He has some previous experience driving tanks, which could be useful for parking outside the Co-op, although I am not sure if the trusty old Jazz will have quite the robustness of a Saracen (I will have to check with Kirsty about that). At least Xav has a provisional licence now, so can get a theory test booked.
He spends a lot of time gaming with friends all around the globe, which means slightly strange waking hours. We do what we can to keep hime to some sort of schedule. However, he is clearly learning a lot about the politics and Covid from his associates around the world. Discord is the place to be hanging out, you probably don't want to meet any of these people in real life.
It has been difficult to get down to see Granny Valerie this year, but Xav and Jonny did make one trip which they thoroughly enjoyed.
That's it, well done for reading this far! I must go, as I have a backlog of Guardian prize cryptics to get through. Just had a text from the GP this morning advising me that my Covid jab is coming soon! but I may have to go through one of 2020s worst inventions, 'telephone triage' to determine my need status. Ho hum.
We wish you all the best for next year, whatever happens, it can't be any worse than this one. Happy Christmas!