Whatever industry you work in, your prospects need to know that you do a good job. Building trust in your business is a sure-fire way to enhance your reputation.
There are many ways to build trust in your business. One key method is by creating website content that:
Focuses on transparency
Creates empathy with your reader
Demonstrates your expertise
Shows your track record
Show that you understand what your clients need
One of the best places to start is to create empathy with your client. When your website demonstrates that you understand your client's needs, your credibility goes up in their eyes and they are more likely to give you their business or make an enquiry.
Address the key priorities of your customers when you:
Content should reflect their needs and desires
Write blogs that identify & offer solutions
Create 'How to…' videos with top industry tips
Include a FAQ section on your website
Put yourself in your client's shoes – and answer the questions they always ask you. That's the best way to build credibility and trust.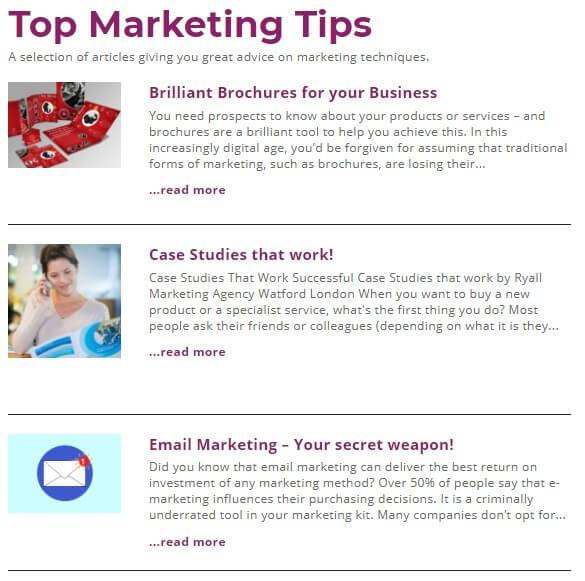 You show that your understand your client's needs by writing blogs that offer solutions to their problems.
Show what you have done – not what you can do
When it comes to marketing, your business needs to show proof of its capabilities. All companies say their product or service is the best, but your company stands out from the crowd when you show it.
There are lots of ways to leverage your success stories:
Testimonials from happy clients on every web page
Videos that demonstrate a product / service in action
Podcasts that feature a pleased customer
Case studies show real, tangible, measurable results
The single, most powerful way of demonstrating your expertise is through case studies with named testimonials (with a video format being the top choice of medium).
All of this needs to be easy to find on your company website.
When you show what you have already done in the past, you prove that you don't just talk the talk – you walk the walk!
Positively embrace your prices
Your website needs to positively embrace the topic of pricing. This is one of the first pieces of information a prospect wants to know.
Studies show that your website visitors will typically spend 10 seconds looking for prices on a website before they leave. When you make your prices easy to find, your clients will stick around, and trust you're being honest and fair with them.
When displaying prices, you need to show:
What the client gets for that price
How varying factors impact the price
Whether this price is part of a package or subscription
When and where the client can opt out, post-purchase
When your prices are easy to find, it shows that you have nothing to hide, and builds trust in your brand.
If you individually price services, then you should consider explaining how you calculate the final price – and what someone would expect to pay for various elements.
For example, a website cost is very variable, but a website design company can tell a prospect what makes a website cheaper or more expensive, so that they know what they will get for their money.
Don't worry if your prices are higher than your competitors. If you are charging the most, it's usually because you offer the highest quality – emphasise that!
Be loud and proud about what you charge. You will be trusted more for it.
Produce videos that demonstrate your expertise
93% of marketers say they've converted a lead into a paying client by using video online.
People buy from people. That's why you need to videos on your website that show smiling faces – whether that's you, your staff or your clients – or even better, a combination.
Furthermore, buyers making purchasing decisions often want reassurance that they are making a justifiable decision which won't be questioned later. Therefore, if they can see video testimonials from clients that have bought your product, it makes it easier for them to justify using you to others. It helps them to:
Manage risk
Feel reassured, secure and safe
Know that you are credible
You have the right experience for their company
You can also build trust by showing the outcome of using your products / services. The proof is in the pudding – so win your site visitor over by demonstrating what can happen to them if they choose you.
Businesses with lots of videos are seen to be investing in themselves, adding value, and perceived trust of the company. Videos also allow you to communicate lots of information in an easy to digest and warm manner.
Be honest and positively address industry questions
You need to answer all the common questions of your industry – positively. Nothing is out-of-bounds. Be clear and up-front about what your business offers, and show that you are realistic and honest in your solutions.
Ask yourself: what are my potential clients asking? When you provide the answers to these crucial questions, your business becomes:
A leading, expert voice in your industry
Respected for up-front honesty
Trusted
You could answer questions on installation times, pricing, the likelihood of future issues, or even list some competitors your prospect could turn to and give advice on how to select the right supplier for your services.
It's worth helping all of your site visitors. Even if you think it might be dissuading them from using you, you will be trusted more in the long-term for it.
Remember that your website content isn't just about securing sales on the spot – it's also about building long-term trust. Only by doing this will you become a trusted voice in your field.
Show happy, smiling clients
The most effective type of image for your website are those of happy people. Since birth we learned that smiling people are more trustworthy, likeable and positive.
It's important that your website creates empathy with your visitor – and including pictures of smiling clients does this. Showing happy customers allows your site visitor to see their future selves reflected in the person in the picture. This helps to create:
Comfort
Security
Trust
Congruence
Seeing smiling people always makes us feel happier and we trust them. And that's just how you want your web-visitors to react!
Preferably, look for images with people that:
Show their teethand take the smile to their eyes
Look directly at the camera
Smile in their eyes, as well as their mouth
Are communicating with someone who looks like one of your clients (that is, the demographics in the picture reflect your client-base)
Seem to be enjoying themselves!
You want to reflect your clients' aspirations in the imagery – that is, if I buy this product or service, I will feel like the person I can see in the picture. Remember, in sales, people buy using their emotions then post-rationalise using 'logic' afterwards.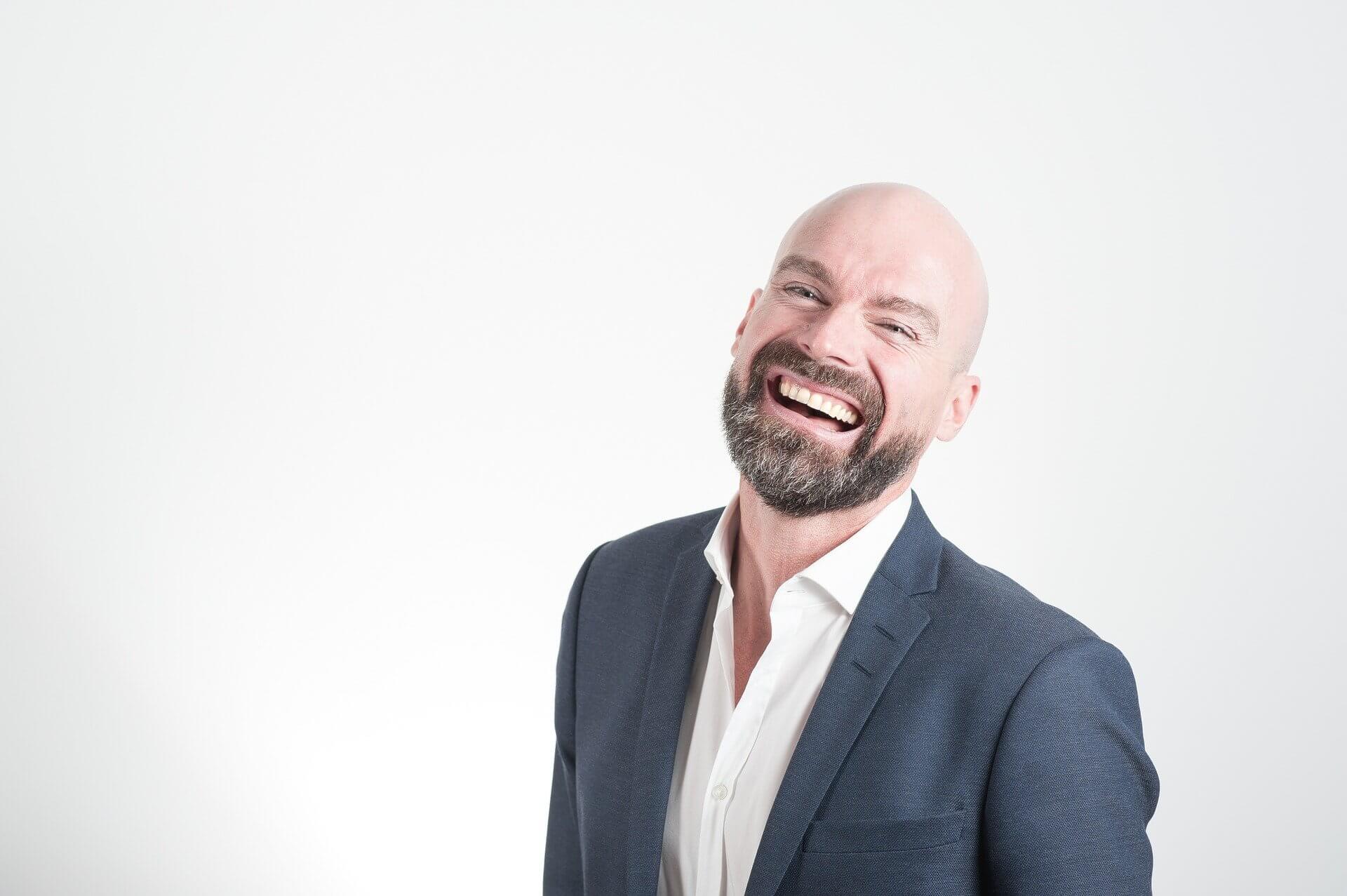 Create website content that builds trust in your business
If you want your website visitors to trust you, you need to do all of the above things. Transparency is key.
Even if it seems like your honesty allows your prospect to engage with you at the right time for them, it will build invaluable long-term trust that results in you becoming a valued and trusted voice in your field.
If you want help building a website that builds trust in your business, Ryall Marketing can help. Contact us on 01923 286 999 or email nicola@ryallmarketing.com.
Need some help with your next project?
Call Ryall Marketing today on 01923 286999 for a no-obligation chat, to see how we can help your business grow.