With over 400 million active users every month, the social platform gives your business a great opportunity to grow brand awareness.
We've already discussed how to grow your number of Twitter followers, and harness the platform's potential. But did you know that there's more to Twitter than meets the eye?
The social platform has multiple widely unknown features that can help you get the most out of the platform.
I've outlined five of these functions below, and how your business can use it to grow brand awareness.
1 – Schedule posts
At the beginning of this year, Twitter introduced a new feature: scheduled posts.
Twitter now allows you to schedule posts ahead of time. That way, if you have a time-sensitive tweet to send out, but cannot access your account at that time, you can prepare the tweet ahead of time.

To use this feature, you need to:
Click the 'scheduling' icon (see image above)
Choose the time & date for your tweet to go out
Type your tweet
Press send!
This feature can help you to organise your Twitter activity. Scheduling posts ahead of time reduces the possibility of human error, whereby a staff member might forget to tweet regularly.
That's why, if you want to Tweet consistently and at specific times, this feature could be invaluable to you.
2 – Mute notifications from accounts of your choice
Are you receiving too many notifications on your Twitter account? Is it difficult to separate the important tweets from the ones you don't want to see?
By muting notifications from accounts of your choice, you can make your Twitter feed easier to manage. That way, you can spend more time interacting with accounts that are important to you, and which have the possibility to bring you business.
To access this feature, navigate to your Twitter homepage and click on the following:
Notifications –>
Settings ->
Filters ->
Muted Notifications
You will then be presented with the following screen: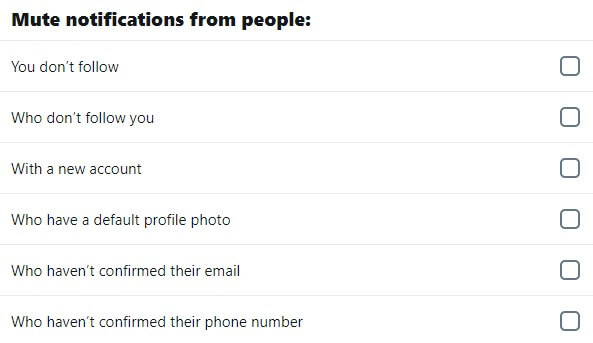 As you can see, this feature gives you lots of options for muting accounts you don't want to hear from. This can help you to focus your Twitter efforts where it counts – and drown out the unwanted online noise.
3 – Bookmark tweets
In daily life, people use bookmarks to remind themselves which page they have reached in a book. Fortunately, Twitter has a similar feature, allowing you to revisit tweets from days, months, or years ago.
You can access this feature when you:
Find a tweet you want to save
Click the small arrow beneath the post
Select 'Add Tweet to Bookmarks'
Then, on the left side of your screen, you can click on 'Bookmarks' and view every Tweet worth remembering in one place.
This feature can come in handy when you want to revisit:
Questions asked by customers
General feedback from customers
Stats you want to reuse
Tweets relating to your industry
Anything that piques your interest!
That's why, when used correctly, this feature can enrich your own content and alert you to content that you, too, want to talk about.
4 – Add people to lists
With so many active users on Twitter, your business can make some really valuable contacts on the platform. Many companies don't use Twitter to generate leads – but if you know how, you can create lists of contacts that can come in handy in the future.
When you find a Twitter account that you want to monitor, you can:
Navigate to the individual's account
Click on the 3 dots beside their name
Select 'Add/remove from Lists'
Add the contact to a list of your choosing
Twitter allows you to create 1000 lists and add up to 5000 accounts to each list. This means that you can create lists relating to a number of things, including:
Potential leads
Existing clients
Support networks
Industry rivals
Want to keep an eye on your rivals, without giving them a follow? Adding them to a list, which you monitor, is the way to go!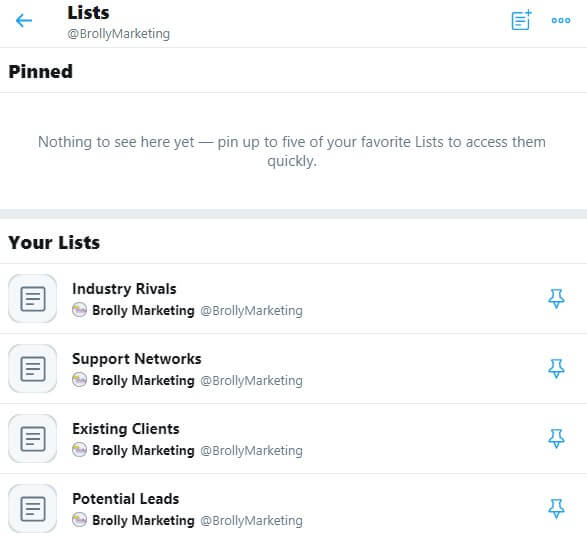 You can use lists to categorise different accounts – and keep an eye on rivals!
5 – Twitter analytics
To get the maximum interaction on your Tweets, you need to post at particular times. It can be difficult to know when these times may be – but fortunately, Twitter has a tool to help.
The Twitter analytics tool allows you to analyse all of your posts, and see which have been successful, and which have not.
You can access this feature by:
Click on 'More' on the left side of your screen
Select 'Analytics'
Press 'Get started with Analytics'

By viewing all of your successful posts, you can identify common trends, and develop a formula for success!
Try identifying commonalities in the:
Topic of your post
Time you posted
Hashtags you used
Images / videos you included
Accounts tagged in the post
Get ahead of the curve
All 5 of these features can help make your business's activity on Twitter more productive. Each one allows you to target your efforts where it really counts and get the most from your Twitter account.
This will help to increase your brand awareness.
Need some help with your next project?
Call Ryall Marketing today on 01923 286999 for a no-obligation chat, to see how we can help your business grow.