LinkedIn is important for making business connections, so is your profile as good as can be? When connecting with prospects, your profile is the first thing they see. That's why you must make a great first impression!
By having a LinkedIn profile that is professional, informative and personalised you show yourself to be a worthy recipient of your prospect's time and money. If your profile isn't impressive or engaging, however, then you stand little chance of turning your lead into a client.
Below, I've taken you through some (not all) of the stages you need to design an outstanding LinkedIn profile.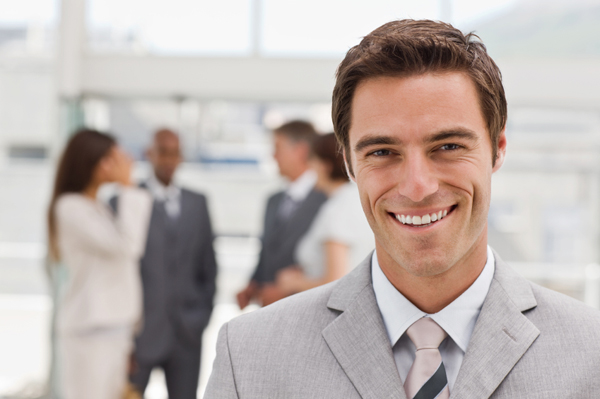 Show a friendly face
Your profile picture is the first thing your prospect sees – so make it something to be proud of.
Remember to:
Show your head & a little bit of shoulder – at least 60% of the image should be your face
Smile – show your teeth & make sure your smile reaches the eyes
Have a plain, light (preferably white) background
Wear a dark jacket with a lighter shirt and/or tie
Face the camera with your shoulders slightly shifted to the left or right
Take the picture in-focus with a high resolution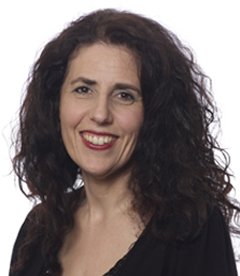 When deciding what to wear for your picture, think: what would you wear if you were about to meet your most important prospect?
Above is my profile picture as an example!
After you've taken a fantastic profile picture, you then need a banner picture. This is the image that goes behind your portrait (horizontally across the top of your profile).
Clients often don't know what to put in this space – but if you know how, this area can be informative and look fantastic.
Some great ideas for your banner picture include:
Close up pictures of staff at work – concentrating & enjoying what they're doing
Working & interacting with clients or team members
Show yourself using technical equipment involved in your everyday job
If you expect people to visit your site, an external shot of the premises is useful for visitors
When taking a banner picture that includes more than one person, make sure to group people together as closely as possible. Ideally, have them touching at the shoulders (of course, not during Covid!) as this will give a better image.
Your banner should include at least 2 of the following:
Your logo
Contact details
Your tagline or key selling point
Here's an example of the banner picture I've used – note that the company logo is pushed to the top left corner – any lower, and it'll interfere with your profile picture!

Write an informative heading
Below your name at the top of your profile, you have a heading. This summarises what you do, and your position within your company.
Often, when LinkedIn users search for new connections, they read the brief heading next to the connections name. See the image below.
As you will notice, the search bar does not fit all the text in. That's why you need to pack the most important information at the front.
Along with your profile picture, your title (heading) is arguably the most important thing on your profile.
You need it to state your:
Seniority (position in the company)
Industry
Areas of expertise
Use clear, simple English to explain what you do and avoid generic terms on their own (for example, 'Partner' is not useful, but 'Partner specialising in Family Law, including divorce, separation and children's matters' is much more helpful.
LinkedIn has a search engine, just like Google, and it looks for key words in the most important places within your profile. Help this algorithm find you by having a clear title.
Writing an engaging 'About Me' section
Once you've drawn in your prospect, you need to tell them more about yourself. That's where your 'About Me' section comes in! Your 'About Me' section needs to:
Outline your key areas of expertise
Explain why you're the best fit for your clients
Focus on your reader (use 'you' copy, show empathy!)
Highlight the benefits to your customers
Encourage your prospect to get in touch
Example: "Having someone external to mull over ideas with, or to give you expert advice, is not only useful but often critical. That's what I provide: effective marketing & reliable business advice." This not only outlines what I do but creates empathy with my reader (focuses on them). If writing is not your strongest area, don't worry. You can hire an experienced copy writer to write your 'About Me' section for you.
Your employment history
The employment section of your profile should outline every job you've ever had – including the one(s) you have right now. This is a good place to:
Summarise what your current company does
Explain what you do within the business
Build brand recognition
In this section, you could mention:
How you work to produce the end result
Benefits of your prospect choosing your business
Some of the products/services you offer
It's also important to mention the companies you've worked for in the past. That way, your prospects will see where you've 'cut your teeth' – as well as how long your current business has been around.
Skills & endorsements
Towards the bottom of your profile, you have a 'Skills & Endorsements' section. This is a great place to show off what you can do.
This area:
Highlights your three key skills
Shows your areas of expertise
Allows people to endorse you for individual skills
People can endorse you for individual skills, areas of expertise or traits. This section also gives you the opportunity to 'pin' three key skills to the top – to highlight what skills you prioritise the most.
Above is an image from the skills & endorsements section on my page.
If you want this section of your profile to look impressive, ask colleagues and friends to endorse you and your skills. The more endorsements you have, the more likely a visiting prospect is to take you seriously – and enquire after your services.
Recommendations
Your 'recommendations' section is slightly different to the above. For this, clients, friends or colleagues can write a review of you professionally.
These reviews are likely to be more generalised than the skills & endorsements section. They will likely focus on your…
Character
Quality of service
Knowledge & expertise
…as well as anything else that explains a customers' experience when working with you. See some of my recommendations below:
For a successful LinkedIn profile, you again need to ask people to write recommendations for you. The more glowing recommendations you have, the better you look.
Your recommendations help to show:
Credibility
Likeability
Skillset
Consistency of service
Areas of skill that you want to focus on
Also, you can use these recommendations as testimonials in your other marketing collateral.
Scratching the surface…
As mentioned earlier, this guide does not cover everything you could possibly put on your profile. There are other, optional sections you could fill in near the bottom of your profile. This includes:
Projects – show what you can do
Volunteer experience
Publications
Accomplishments (e.g. success stories)
Languages you speak fluently
Past qualifications
On top of this, it's good to attach various videos and images into different parts of your profile. This shows more proof of your credibility and will make your profile more colourful, friendly and visually interesting.
Need some help with your next project?
Call Ryall Marketing today on 01923 286999 for a no-obligation chat, to see how we can help your business grow.